Whole grains
Are very important in our daily diet and should be part of at least one meal per day.
They (Whole grains) are packed with nutrients like protein, fiber, B-complex Vitamins, minerals, antioxidants. Because of the fiber they promote healthy bowels because fibers maintain regular bowel movement and growth of healthy bacteria.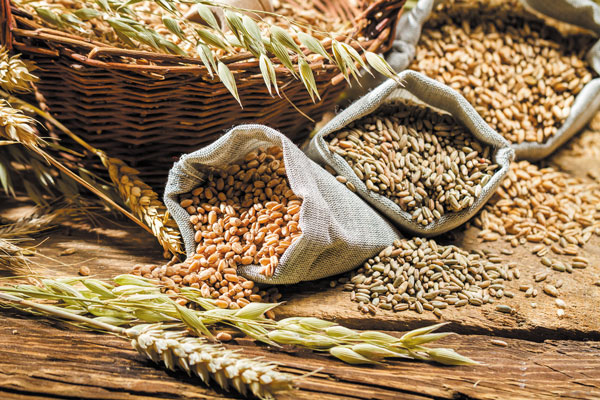 Whole grains also help you in the fight with heart diseases, type 2 diabetes, obesity and researches have shown that they even help against some cancer types. Sellers and stores often times use terms like "multigrain" or "100% wheat" and "organic". These are only marketing tricks that help them sell you their product. This combined with the overall perception that Whole grains don't taste good and are hard to be prepared, results in low consumption of Whole grains which are recommended in three servings per day!
Whole grains HAS TO contain all edible parts of the grain: the bran, germ and the endosperm. It can be used intact or recombined but it has to remain in natural proportions. We have a list of the most common and easiest to prepare whole grains: – Whole oats (Oatmeal) – Popcorn – Brown Rice – Whole rye – Whole-grain corn and wheat – Triticale – Quinoa – Whole wheat flour Processed foods like a loaf of bread, should be bought from trusted bakeries that use whole wheat flour instead of adding molasses to color it brown!
More from Nutrition
---
https://www.usatoday.com/videos/news/2017/06/19/experts-coconut-oil-has-never-been-healthy/103005748/ The American Heart Association recently released a report advising against the use of coconut oil. The Dietary Fats and Cardiovascular Disease …
Have you ever felt like your stomach was satisfied but your mouth was still hungry? This confusing feeling is due …
I was vegetarian for four years of my life, during high school and a couple of years of college. And …